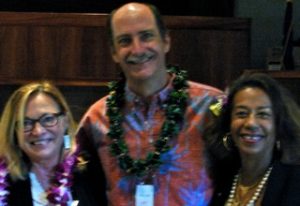 Larry Gill of the Lorin Tarr Gill Foundation (Hawaii) was present to hand out the awards for the winners of the Pen Women Writing Competition. I won first place in the non-fiction category for my memoir "Grandpa Hoeler and the Race Riots."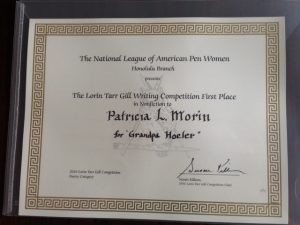 Seventy-two people were present at the luncheon for the awards ceremony.
Without further adieu: I present the winning piece:
"Grandpa Hoeler and the Race Riots"

          Grandpa Hoeler built most of the houses in the neighborhood where he and my grandmother lived. He was as rooted to his land as the pole on which he raised the flag every morning and from which he removed the flag every night, no matter how big a storm raged throughout the day. He shuffled his eighty-five-year-old feet in tiny steps to the old oak chair planted on the landing. Gray-and-white suspenders held up his gray flannel slacks, which crumpled up his bleached white cotton shirt.
I would barge through the side entrance of the house, barrel up the five steps, and notice the faraway gaze in his intense blue eyes, yelling my hello as I dashed left toward the kitchen.
His straight gray hair, with a few wisps of black, would dip onto his face as he stopped me. "Hey, kid, get me a beer."
It was our ritual hello. He wanted me to run back down the five steps to the door, and then another five to the basement refrigerator. My grandmother placed the beer there so he would have to shuffle his way down the two flights of steps to the damp, dark coal cellar. I would sometimes find him sitting down there alone in the darkness and wonder what he was thinking.
Sometimes I would say, "No."
He'd mutter something , then yell, "You damn fresh kid, now go down there and get me a beer."
Most times I would. I loved my grandfather, even though he and my grandmother, true Germans, showed little affection.
I guess I realized he was my hero when I was eleven, in 1964. That was the year before a white policeman shot Lester Long, a twenty-two-year-old unarmed African- American, to death during a drug search. It was two years before National Guard tanks rolled through the Central Ward of Newark, New Jersey, in hopes of quelling what turned out to be a six-day race riot that killed 23 people, injured 725, and incarcerated 1,500.
Often, the African-American Avon Avenue kids would chase me home. I became a very fast runner and even joined the track team, and became the only "cracker" to place in a heat. Grandpa laughed when he heard that. By then, I was sitting with him on the top step while he drank beer and my grandmother cooked dinner. I told him I wished I had been born a black boy instead of a white girl. All our neighbors were black. He would talk about Germany and what many went through, leaving their homes, family, and work when Hitler came into power.
"Eh, in Germany, it was the Jews. Here, it's the blacks and whites. Just don't let them catch you."
"Will you time me running up the driveway? I'm getting faster."
"Get me a beer."
"Okay."
My grandfather and I would argue about which show to watch on the little black-and-white TV, while we waited for my parents to come from their New York City jobs, eat dinner, and turn around again to our own home, where I lived late weeknights and weekends, in Union, New Jersey. I wanted to watch Astro Boy, while he wanted to watch The Life of Riley. He mainly won, except when I had a bad day at school or when I didn't run as fast as the Avon Avenue School kids. During the shows he would ask me about my day.
"Did you get in trouble today?"
"No. But, Virginia beat up Ken during math. Sister Marie DePaul cried the whole time. Ken said he didn't like the smell of her nigger perfume."
"Eh, that stupid kid. You gotta keep your mouth shut."
"Yeah, I guess."
I liked to believe that I was a carpenter's assistant. Although he could barely move, my grandfather had me set up two workhorses and told me to get the wooden saws and the 2-by-3-by8 pieces of wood so I could make stilts. He sat there and drank beer and instructed me on how to make them. I brought them to school and awed everyone; all colors and makes of people were impressed as I walked the halls two feet above my fellow students.
Grandpa Hoeler reminded me that he had built the houses on the block.
"People don't ask what color the builder was. They like the house, they move in." He spoke, then cleared his throat of the phlegm that settled in the back.
A man of few words, I believed he loved me. He even showed Afro-American Judith Smith, my best friend at the time, how to make stilts. We constructed stilts and go-carts in the first of six connected, brown wooden garages in the backyard behind my grandmother's garden.
They rented out four of the garages to people who worked in New York City and took the bus from Newark. One garage housed pigeons. A man would catch them in our backyard and place them in the garage. I would often go in to watch them. Grandpa would drink beer with the pigeon man and the three of us would sit and talk about the birds. I named some and had my favorite, and Grandpa and the pigeon man would remember their names. I was always impressed by that. When the pigeons left, the pigeon man would say he had found the bird a good home. What did I know? I was eleven during this time. How did I know they wound up on a dinner plate?
Newark had become a bed of coals waiting to ignite, and ignite they did after Lester Long was murdered. The fire of fear jumped from family to family, street to street. Black gangs would throw stones at the whites. Many of the whites moved, leaving few left. My parents wanted my grandparents to move to Union, New Jersey, near us, but they refused. My grandfather continued to sit in his chair, shuffling in and out of the house for the flag, and to drink beer. This was his home and this is where he would stay.
At the end of a cool April day (two months before Lester Long was murdered), I exited the school building in single file with my classmates. A Puerto Rican girl named Ann Marie had promised to pulverize me at the corner of 10th Street and Avon Avenue. She had spread word of my fate around the school and a crowd formed to watch. I was filled with such rage that I pounded her—to my complete shock.
I had stopped running.
The school called my grandmother, never my best fan, and I was made to sit in the dining room, past darkness, to wait for my parents, who were due in three hours.
Saddened by the whole day, I tried to lose myself in fantasy. The door behind me was a swinging door into the TV room. My grandfather rarely sat in the chair behind the door anymore because it was too close to the TV and too hard to get up from. He had to grab the arms of the chair and push. I heard him clear the phlegm from the back of his throat and knew he was about to speak.
"You got in trouble today, kid," he whispered.
"She said she was gonna beat me up and she hit me in the face; she hit me first. So I punched her in the mouth. Now grandma thinks I'm bad," I whispered back.
"What does she know? Eh, you're not bad."
"Grandma says the school called. I broke Ann Marie's tooth, and her nose bled."
"Kids shouldn't be fighting. I'll put on the TV."
"The Life of Riley?"
"No, your show, kid."
"Grandma won't let me leave here."
"You can listen. I'll turn it up. I'm going to get a beer."
I heard him turn up the sound, then shuffle toward the basement. When he returned he yelled at my grandmother: "Let the kid watch her show."
"No, Jules. Turn off the TV."
"No, I'm watching it."
He sat down in the chair behind the door and stayed there the three hours before my parents came home, except for two more visits to the basement (taking a few minutes with grunts to get out of the chair)
That summer my parents decided to take me out of the school. Newark had become too dangerous. It was the same summer that my grandfather slipped on some wet bricks, in a thunderstorm, while taking in the flag. My mom swore it was rocks from the black gang.
Either way, I lost the most important person in my life.
There were never heroic words or heroic actions from Grandpa Hoeler. Yet, I always felt that he had saved me from hatred and loneliness
Grandpa died and his old office on Springfield Avenue was burned to the ground in the racial unrest. My grandmother finally moved—after the tanks rolled into Newark.
THE END