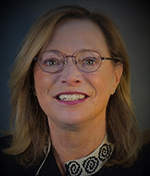 Besides writing plays, short stories, and novels, Pat is also a practicing psychotherapist with a Masters in Counseling Psychology and Clinical Social Work.
News

Pat reviews plays in the SF Bay Area and beyond at FrontRowReview.com.
She is a member of the San Francisco Bay Area Theater Critics' Circle and the American Theatre Critics Association.
In October 2019, Pat's play Hit List won PCSF's Best Short Play of 2019! It was voted by the audience as the best play out of nine in PCSF's Best Short Plays festival, held in October 2019. (Breaths by Amissa Miller came in second, and Don't Just Sit There! by Diane Sampson finished in third place.)
Pat is working on her fifth mystery short story collection based on psychological personality disorders. The readers will learn why characters (in books and elsewhere) need a shrink. Fear of the #13 Support Group, and other mystery stories will be out later this year.
Pat's short literary story, "So it Was," was released in the Redwood Writers anthology Endeavor.
Pat's short play Silence Interrupted was performed in San Rafael on August 30 as part of the 2019 Fringe of Marin.
In September 2018, Pat's short musing, "Clay Horse Ashtray," was accepted into Linea, a magazine for short fiction. This magazine is hand crafted, printed on a home wood press, and hand-stitched. A magazine release party for Linea, as well as readings from authors, took place on April 26, 2019, at the Center for the Arts in Northampton, Massachusetts.
On April 8, 2019, a staged reading of Pat's full-length play, A Clean, Well-Lighted Park Bench, directed by Suzan Lorraine, was read at the Shelton Theatre, San Francisco.
In February 2019, Pat was re-elected as President of the International Centre for Women Playwrights.