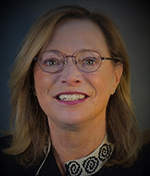 I was a psychotherapist near Nyack, New York, for twenty-six years, with a Masters in Counseling Psychology and a Masters in Social Work (New York State board certified for psychotherapy—LCSW-R). Larry was a Senior Vice President for Fidelity Investments on Wall Street. We loved the people and the seasons, although we had a difficult time with the cold. With that, we moved to San Francisco, CA. Now I am a licensed psychotherapist in California.
Larry and I ran the New York Marathon (Larry's fourth marathon—my first and last). I would have never finished if it weren't for Larry running by my side, and the encouragement of the people lining the streets. Twenty-six miles of citizens yelling their support gave me the incentive I needed to finish.
I have also earned my single-engine pilot's license. I flew a Cessna 172, a very reliable and common high-wing plane. As I flew alone thousands of feet above the earth, I would feel like I was gliding on the wings of angels. It's tough not being able to ask for directions, though. On my first solo flight, I thought I was upstate New York but was actually near Philadelphia, PA. You can imagine my surprise, and the surprise of the control tower that hooked onto my signal.
I earned my certification in American Herbs from Rosemary Gladstar's Sage Mountain herbal school, and studied Traditional Chinese Medicine. My interest in herbalism began when I picked up a magazine called Prevention and read it, and suggested an article in the magazine to a client. I continued reading more and more about the nature of herbs and their applications. Eventually, I integrated my growing knowledge into my practice. Two Tibetan doctor friends taught me about Traditional Chinese Medicine. 
I have authored four mystery short-story collections, and written numerous plays produced in the US and Canada. Loving theatre and expanding my writing experience, I studied to be a theatre reviewer. Working with editor Barry David Horwitz, and after 30 reviews at Theatrius.com, I was accepted into the San Francisco Bay Area Critics Circle.
Larry and I love animals, and have had some fun and zany pets: 
| | | |
| --- | --- | --- |
| Tanya, rescued from a gas station late at night. | Sara, rescued in the rain, wandering the streets after losing some fights. | Sugar Brown Betty, "Betty Boop", twenty-seven year old retired jumper. |
| Gaia and our Ragdoll, Kiki | Jake, the Flake, a Tonkinese that never stopped. | Jesse James, rescued from a 3′ by 3′ room. |
| An older Kiki and Jake | Gaia and Kiki, friends til the end. | Fresh Freddie, a Cockatiel, on the left, was a telephone-pole rescue. Zany Zena, a Senegal on the right. |
| Coral, our Betta fish, lived four years, and accompanied us on two cross-country trips. | Tayya was another rescue. She was an Australian cattle dog and Lab mix that loved all people and most animals. Especially fond of Golden Retrievers and White Labs. | Gaia with neighbor, Henry David the Burro. |
| | Our new rescue, Lani, is a lab/border collie mix with endless energy and different colored toes. | |