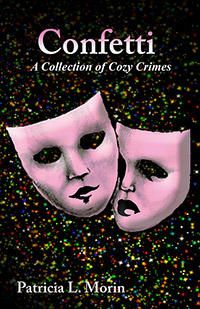 Confetti: A Collection of Cozy Crimes is available now! From a theme party in Mizpah, NJ, to a surfing incident on the north shore of Oahu, murders are planned. From a Malibu beach with remote control cars, to the northern hills of Las Vegas, people are disappearing. Confetti is a nine-story collection, including a novella, created for light entertainment.
Confetti is available from Amazon.com.
Read a story from Confetti: "Pizza Man Murder"
Confetti was awarded an Honorable Mention in the 2015 Northern California Publishers and Authors (NCPA) annual publishing awards for book cover & design.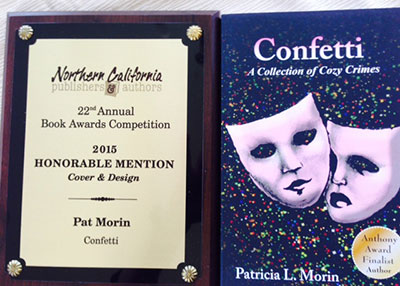 Reviews
"I've been a fan of Ms. Morin's… she's a writer's writer, an author who makes her story the centerpiece, not the words or fancy sentences. All of her collections are marvelous—every story a jewel—but this new one [Confetti] moves Ms. Morin higher on the list of America's top writers of short crime fiction."
—Jack Getze, Editor, Spinetingler Magazine
 "Oh, just delightful! This book, generally, does not take itself too seriously. It is a collection of short stories, all tied together by the commission, contemplation, connivance or conundrum of murder. The problem of such a collection is to make the characters different from one story to the next. Patricia L. Morin speaks with different voices as her characters, mostly in the first person, involve themselves or are involved in homicide.
"When an intellectual college student has oxygen starvation amnesia, she talks in short clipped sentences, giving the impression that longer thoughts are just too much for her to manage. When a stoner has a run-in with a Good Samaritan, he is under the influence and his lack of coherent thought prevents him from recognizing the truth of his predicament. An elderly man contemplates his life and marriage, striving to find a reason to continue one or the other. A successful stock trader is forced by the murder of her sister to examine her own motivations and desires.
"There is more, however, to character development and tone than sentence structure alone and the author successfully creates, in a very short time and with quick strokes, enough of each character to allow the reader to picture and fill in the rest. There is just enough description for a short story, with such phrases as 'eyes of ice' or 'he had a twinkle in the corner of his crinkled eyes.' These would make good short plays, each about one-quarter to one-half hour long. Most of them have a clever twist or ending, often unexpected, usually foreshadowed for the amateur sleuths among us. The book is not clinically gory so the characterizations are not lost in the awful details. I liked the book: it is easy reading, and I found myself laughing at the twists and admiring the writer's craft."
—Ralph Peterson, San Francisco Book Review

"Confetti, Patricia Morin's fresh and unusual look at the world of crime, is less a strand of pearls than a string of colorful beads of varying sizes and shapes. Morin's crime stories attest to her ability to illuminate, to surprise and to entertain her readers. It's clear that this author loves writing about crime; her enthusiasm projects through each of the nine stories in this volume, some round and concise, others lengthier and more languid.
"Coast-to-coast and beyond, Morin's crime scenes span two coasts, two oceans and points in-between:
"The Victorian mansion in 'The Bark Mitzvah Murder in Mizpah, New Jersey' provides a fitting backdrop for a unique upscale coming-of-age celebration that ends in murder mayhem.
"In 'Love Shack' Morin skillfully splices motive with off-the-beaten-path Hawaii, while weaving a succinct story around islanders Makonu and Becca's soured marriage.
"'The Ferry,' Morin's longest, and final, story takes place in the mid-Atlantic, aboard the Cape May-Lewes car ferry. Told in the terse, spare voice reminiscent of a 1930s detective novel, the narrator, a Porsche-driving Wall Street loner, seeks to unravel the untimely death of her younger sister (and last surviving family member).
"In each of these stories Patricia Morin opens windows with words, casting light on the characters and motives of her victims and perps, witnesses and bystanders. While some stories shine more brightly than others, Confetti is a fun, original, suspenseful and entertaining read."
—Carolyn Adams, Mill Valley Literary Review
"Summer is the time for travel, but sadly not everyone has the privilege of whisking off across the country and escaping everyday life. That's why we're grateful for this anthology of nine short stories that take readers to Oahu, Venice Beach, and—well, New Jersey. Murder is, of course, involved, but it's a footnote in these highly entertaining and often very funny short tales.
"Morin makes crime a family affair in her first two delightful tales. Absolutely charming is 'Bark Mitzvah Murder in Mizpah,' in which an incredibly diverse group of New Jersey partygoers celebrate the Jewish rite of passage for a poodle. Too bad it ends with a poisoning, but that's just as much fun as the first story in this anthology, 'Pizza Man Murder.'
"The author twists it up with 'Psychic Spies,' which follows a 1979 program training agents to use unconventional methods. Humor is back in 'Harry and Penny,' as two senior sibling private investigators wield their unique form of communication to foil a scheme that could have forced an early retirement.
"My two favorite stories are 'A Hui Hou Kakou' and 'Love Shack,' which take place on the island of Oahu and feature two very different interpretations of love. The first is a haunting narration by a nearly drowned young woman who struggles to repair her memory, while the latter is a far lighter tale of a relationship gone awry.
"The light-hearted tone of these stories definitely lives up to its cozy title, but the final entry also displays a deeper sentiment that shows off the author's deft hand with character development. 'The Ferry' is nearly a novella of a woman following her sister's final wish and learning far more than she ever expected.
"Confetti is a tightly written anthology, and its length is a sign of exemplary editing ensuring that each entry is more than strong enough to stand on its own."
—Cynthia Chow, Kings River Life
Click here to read published book review