About Patricia L. Morin: MA, LCSW-R, Psychotherapist
Hello,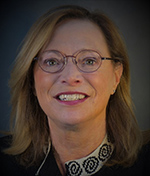 I am a NY licensed psychotherapist (MA, LCSW-R) and herbalist with masters in both Counseling Psychology and Clinical Social Work, with over thirty years of experience. As an individual practitioner, I specialize in depression and anxiety in adults over eighteen years of age. I have an eclectic therapeutic style including Psychodynamic, and Jungian. I use Gestalt for dream analysis.
Currently, I offer my services to New York and California clients through online remote teletherapy sessions using their desk top computer or their smart phone via the VSee platform. VSee is simple to use and download. It functions similar to Skype or FaceTime but has improved teleconference picture technology and offers a secure and confidential HIPAA (Health Insurance Portability and Accountability Act), compliant connection. VSee was designed for medical field professionals as a telemedicine and video platform to support secure, two-way, private medical consultations and family conferences.
I am excited to be able to offer my services to the Adult Community in this convenient way to individuals and couples, eliminating the obstacle of travel (especially in poor weather). Individuals can be in different locations or in the comfort of their own home.
My rate is negotiable depending on client circumstances and I offer a free 20-minute consultation. I also offer personal therapy to residence of San Francisco and Marin County, CA, in my Sausalito office. Please contact me through patricialmorin@gmail.com.
I will respond within 24 hours. Thank you.
Kind Regards,
Patricia L. Morin, MA, LCSW-R
EXPERIENCE:
Helped clients ranging from drug-involved adolescents to adult schizophrenics.
Served as clinical director of a 150-client workshop for dually diagnosed schizophrenic and individuals with IQ's of 60 or less.
Worked twelve years in community service centers, treating a broad range of psychological disorders.
Supervised a suicide hot line.
Partnered with Columbia University to supervise master level students on their intern placements at Letchworth Village in NY.
Evaluated incarcerated youths as part of their presentence investigation.
EDUCATION:
BA-Psychology, Fairfield University
MA-Counseling, Fairfield University
MSW-Master of Social Work, Hunter School of Social Work
Supervised by a William Allison White Psychiatrist to obtain a privileged psychotherapy rating, "R," for my LCSW license
Certified Herbalist, Rosemary Gladstar School of Herbology
MEMBER ORGANIZATION LINKS:


CSCSW


C. G. Jung Foundation
ARTICLES:
LONELINESS AND THE WRITER: Part One, Part Two, Part Three