50/50 Applause Awards 2017
The International Centre for Women Playwrights' 50/50 Applause Award Committee is pleased to officially announce the award recipients for the 2016-2017 season, celebrating gender parity for women playwrights at 58 theatres throughout the United States, Canada, Australia, Germany, United Kingdom, Singapore, and Tasmania. These 58 recipients will receive the prestigious 2017 50/50 Applause Award, for producing 50% or more plays by women playwrights in their 2016/17 season... Read more

About Pat Morin
Besides writing plays, short stories, and novels, I am also a psychotherapist with a Masters in both Counseling Psychology and Clinical Social Work. I am on the board of several organizations. I created and facilitated the Literary Project, an after-school program that helps middle-school students (interested in becoming authors) learn about the different writing genres.
Read more about Pat, and follow her on Twitter @PatMorin.

Pat's Recent News
Pat was commissioned to write her play, titled Jack, for the Egyptian god Wepwawet for the Olympian Festival. It was performed on Friday 10/6/17 at the Exit Theatre in San Francisco.
Pat's play Appearances was part of the Playwrights' Center of San Francisco's 24-Hour Play Festival on July 30, 2017. (All the plays are produced from scratch within 24 hours!)
A Clean Well-Lighted Park Bench was part of the Playwrights' Center of San Francisco's "Sheherezade's Last Tales!" which won the 2016 Theatre Bay Area (TBA) Award for Outstanding Production of an Anthology.
Pat's short play, And So... was part of Flush Ink Productions' "She Speaks—Women's Works, Women's Words" festival, March 4 and 5, 2017, in Waterloo, Ontario, Canada.
Conflicted, a holiday flash play, was selected for a reading at the Samuel French Film and Theatre Bookshop in Los Angeles, CA on December 17, 2016.
Pat's one-minute play City Bench was featured at Playwrights Foundation 5th Annual Flash Play Festival - Fast and Furious on 12/3/16 and 12/4/16 at the Brava Theater Center in San Francisco.
"Grandpa Hoeler and the Race Riots," a memoir, won first place in the 2016 National League of Pen Women contest for non-fiction.

Short Story Collections by Patricia L. Morin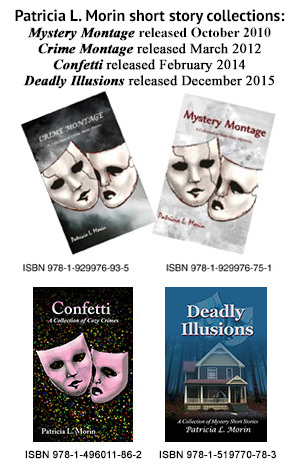 Deadly Illusions, A Collection of Mystery Short Stories, was released in December 2015. From a gossip-spreading employee and an overbearing voice at a bar, to an Inn owner creating murder games, and a lonely man sitting on a Central Park bench, these stories blur the thin line between what we perceive and what is real.
"Pat Morin is back with a collection of ten short mystery stories that will entertain any mystery reader. Crimes of passion can happen anywhere, from a love triangle on a golf course to a family seeking to bury secrets from their small town. Morin's stories amaze with twists and turns, and surprise endings."
—Manhattan Book Review
Deadly Illusions ($12.95, ISBN: 978-1519770783) is available from Amazon.com.
Learn more about Deadly Illusions
Confetti: A Collection of Cozy Crimes was released in February 2014. This collection is the third book in the short story series. From a theme party in Mizpah, NJ, to a surfing incident on the north shore of Oahu, Hawaii, murders are planned. From a Malibu beach with remote control cars, to the northern hills of Las Vegas, people are disappearing. Confetti is a colorful mixture of delightful stories.
"I've been a fan of Ms. Morin's ... she's a writer's writer, an author who makes her story the centerpiece, not the words or fancy sentences. All of her collections are marvelous—every story a jewel—but this new one [Confetti] moves Ms. Morin higher on the list of America's top writers of short crime fiction."
—Jack Getze, Editor, Spinetingler Magazine
Confetti ($13.95, ISBN: 978-1-496011-86-2) is available from Amazon.com.
Learn more about Confetti
Crime Montage, the second book in the short story series, was released in March 2012. From a Newport, Rhode Island, fishing vessel to a German cruise ship in 1939, crimes are committed. From the San Juan Islands to New York City, murders are solved. The stories are as unique and different as human personalities and motives.
"With such a variety to choose from, you'll find that once you start reading, you won't want to put down Crime Montage until page 214. And when you reach that final page, you'll find yourself asking, 'Did she write any other book?' Happily, the answer is 'Yes!'"
—San Francisco Book Review
Crime Montage ($14.95, ISBN: 978-1-929976-93-5) is available from Amazon.com, Barnes & Noble and IndieBound.
Read an excerpt and learn more about Crime Montage
Mystery Montage, the first book in the short story series, was released in October 2010. From a small village in Africa's Maasai Mara to under the boardwalk in Atlantic City, NJ, murders are discovered. On an Amtrak train as well as a spiritual plane, suspects are caught. The stories are uniquely different as motives are explored and crimes solved. The story "Homeless" was nominated for a Derringer and an Anthony Award, while "Pa and the Pigeon Man" was nominated for a Pushcart Award.
"Patricia Morin demonstrates the full range of her abilities, from cozy to suspense to noir—and every genre in between."
—Marcia Muller, Grand Master, Mystery Writers of America
Mystery Montage ($12.95, ISBN: 978-1-929976-75-1) is available from Amazon.com, Barnes & Noble and IndieBound.
Read an excerpt and learn more about Mystery Montage