Articles
Pat's article Do Publishers Dream of Robo-writers? appeared in the Summer 2016 issue of the Mill Valley Literary Review.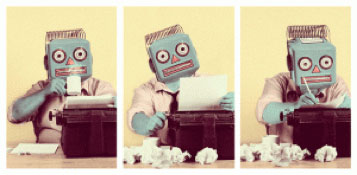 The pressure is on for authors to sell books. With bookstores closing because of Amazon and other internet outlets, publishers demanding authors to do their own marketing, publishers delivering contracts with less incentive, and selling books cheaper, it's a wonder authors don't just pack up their pens, and close down their imaginations.
But now, we may be replaced by robots!
Robo-journalism was used to report an earthquake in Los Angeles, CA, in March, 2015. The article, however, was based mainly on data from the US Geological survey. Here's the article: "A shallow magnitude 4.7 earthquake was reported Monday morning five miles from Westwood, California, according to the U.S. Geological Survey. The temblor occurred at 6:25 a.m. Pacific time at a depth of 5.0 miles. According to the USGS, the epicenter was six miles from Beverly Hills, California, seven miles from Universal City, California, seven miles from Santa Monica, California and 348 miles from Sacramento, California. In the past ten days, there have been no earthquakes magnitude 3.0 and greater centered nearby. This information comes from the USGS Earthquake Notification Service and this post was created by an algorithm written by the author."
Sounds like it was written by a real journalist.
"However, as well as the earthquake report, it also uses another algorithm to generate stories about crime in the city — with human editors deciding which ones need greater attention," the article continues (L.A. Times, March 17th, 2015).
Shelley Podolny, "If an Algorithm Wrote This, How Would You Ever Know?" (N.Y. Times, March 7, 2015)
"These robo-writers don't just regurgitate data, either; they create human-sounding stories in whatever voice — from staid to sassy — befits the intended audience. Or different audiences. They're that smart. And when you read the output, you'd never guess the writer doesn't have a heartbeat.
Consider the opening sentences of these two sports pieces:
"Things looked bleak for the Angels when they trailed by two runs in the ninth inning, but Los Angeles recovered thanks to a key single from Vladimir Guerrero to pull out a 7-6 victory over the Boston Red Sox at Fenway Park on Sunday."
"The University of Michigan baseball team used a four-run fifth inning to salvage the final game in its three-game weekend series with Iowa, winning 7-5 on Saturday afternoon (April 24) at the Wilpon Baseball Complex, home of historic Ray Fisher Stadium."
First one by a machine, second by a human.
Next, we'll be reading novels written by computers, a conglomerate of the best-selling authors with a simple plot, realistic (ha) characters, and a creative twist at the end that you would have never imagined.
And the "The End" on the last page will mean exactly that.
---
Pat's article Mindfulness and the Power of Detection appeared in the January 2014 issue of First Draft, the publication of the Sisters in Crime Guppies chapter. You can also download the article as a PDF.
Irene Adler: Why are you always so suspicious?
Sherlock Holmes: Should I answer chronologically or alphabetically?
Ortega y Gasset: "Tell me to what you pay attention, and I will tell you who you are."
Deep in the great minds of homicide detectives and mystery writers are characteristics that enhance the creative powers of detection. I believe one of the most important characteristics, that helps answer the who, why, where, and how questions, is mindfulness.
There is a big difference between seeing and observing. Holmes often points out his "powers of observation" and what others merely "see." He asked Watson how many steps in his house, and Watson, who had traveled them countless times, didn't know. Watson had seen them, but made no observations about them.
In Psychology (Philosophy and Spirtualism), this kind of observation is called mindfulness. What is Mindfulness? Mindfulness is, according to Jon Kabit-Zinn, founder of the Mindfulness-Based Stress Reduction program in Massachusetts:
"Maintaining a moment-by-moment awareness of our thoughts, feelings, bodily sensations, and surrounding environment. Mindfulness also involves acceptance, meaning that we pay attention to our thoughts and feelings without judging them—without believing, for instance, that there's a 'right' or 'wrong' way to think or feel in a given moment. When we practice mindfulness, our thoughts tune into what we're sensing in the present moment rather than rehashing the past or imagining the future." No daydreaming or fantasies allowed. No obsessing over what should have been done, or what to do.
My friend once called me, annoyed. She had told herself to go to the liquor store to get wine for our dinner. She even wrote herself a note during work. But what did she do? Drove right by the store, to her home, into her garage, and then cursed herself out loud for driving right passed the store—then asked me to pick up a bottle up on my way to her house. (Yes, I remembered!) So this is not an example of mindfulness, but it is an example of what most of us do everyday, probably more than we would like to admit. We give in to the routine we have established, without even a thought.
However, while waiting in my car for a light, I observed a man going into a store, and as he spoke to the retail person, his hands flew into the air, the retailer stepped back, another female retailer came over to the man who continued to point to something on what I thought must be the counter. I said to myself, "God, he must be really pissed off." I had to move on, with the traffic, from that observation. Once I stepped back and reflected on the situation, still in observation mode (and another characteristic of a good detectives), I asked myself (and I bet you know what I'm going to say): "Hey, can I create a mystery short story around this?"
Part of the road blocks to minfulness in this "day and age" is the use of computers, iPhones, and digital media. It decreases mindfulness, and also decreases the use of attention on the whole. How often do you notice anything about you and the environment as you multi-task? It steals much of our creative powers. We don't notice our own thoughts and thought patterns anymore. But don't get me started on how our minds are deteriorating. Thank goodness for that extra sensitivity we have to mindfulness and the the true powers of observation.
---
Writing in Multiple Mediums
by Patricia L. Morin
Although short stories, novels, and plays all integrate character, setting, plot, and conflict, I've experienced that the skills needed to succeed in these three forms of literature are uniquely different.
Many short-story writers cannot stretch themselves, inevitably losing their way, as they attempt to complete a novel. Many novelists, conversely, are unable to be succinct enough to write a short story. Even fewer writers are capable of employing dialogue as the primary technique in the unfolding of a play.
In my experience, the distinguishing characteristic among these three types of literature boils down to one word: focus.
The focus of a short story is on an event, a plot point that affects the characters, their interactions, and their environment. Descriptions of setting, time, personal histories, and character motivations are necessarily brief, because the reader can evaluate what is transpiring in the characters' minds.
For example, my short story, "Homeless," concerns a homeless man sitting on a bench at a busy intersection and a woman stopped at the traffic light. She has just moved into the city and also feels homeless. What matters most in this story are the woman's thoughts and feelings; "Homeless" unfolds mostly in her head, as she attempts to finds sixty seconds worth of solace while sitting at the red light. However, the story focuses on the one event.
I started my writing career, like so many other writers, with short stories. My nature is to be direct and short stories seemed a natural avenue for me to follow into the written word.
The focus of a novel, of course, is broader, deeper, higher. All aspects of the protagonist are explored—his or her past, present, friends, ideals, problems. The plot can take many twists and turns while the antagonist, along with the minor characters, impedes or thwart the protagonist's journey to a resolution. The protagonist travels a rocky road and the reader experiences all the bumps along the way. As Stewart Spencer states in The Playwright's Guidebook: "We lift the veil off level after level after level."
The novelist, naturally, creates the long and rocky road, always faced with the threat of dead ends. For me, sustaining the focus on a novel is an arduous task, made ever more demanding by the constant concern of keeping the reader engaged. Currently, I'm forging my way through Seniors, Inc., centered around a temporary employment agency for seniors. It's a world of many personalities, their front and back stories, and their goals. My characters and I have been traveling together for quite a while and we have a long way to go.
Other novelists, however, see the craft in a broader focus. They delight in the details and drawing in the reader to accompany their characters down a life's journey. It's a more natural way for them to write.
Finally, a play is focused on character. As my teacher and workshop coordinator Will Dunne (The Dramatist Writer's Companion Tool) instructs, "The character is the scene. The character is the story." And the character is developed through dialogue. The power of the spoken word drew me to writing plays. In my career as a psychotherapist, the spoken word had been my livelihood. Being a shrink, I was at home with this kind of art form.
The setting, the time period, and the problem in a play can be depicted as the curtain opens. In The Piano Lesson by August Wilson, the audience sees old Salvation Army furniture in a small apartment. The kitchen has ripped dishtowels. A shabbily dressed African-American man is sitting at the messy kitchen table. An old upright piano with beautifully carved masks in the legs stands in the scant parlor. All that information is disclosed with one glance at the stage. From there, the dialogue reveals the relationships this man has with his family, friends, students, and himself, as well as the central conflict. On stage, the direct acting out of the emotion accompanies the dialogue.
When the idea of my play The Gatekeeper, in which people can bury unwanted emotions, came into my mind, I saw only the gatekeeper. Though proud of his cemetery of buried emotions, he was anxious to evolve to a higher plane. My main focus was on only him. It broadened a bit when a woman who blames him for burying the wrong emotion wants it back. I added a cape to his black outfit, an all-black costume for her, and a few gravestones with feelings etched on them, but the main focus of the play was on the spoken interaction between the two characters.
Although all stories involve characters, events, plot, and conflict, what is your primary focus?
---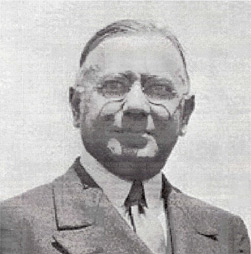 Earl Derr Biggers' Charlie Chan: The Chinese Legacy
by Pat Morin
The Chinese-American detective of early 20th century fiction, Charlie Chan, was conceived in the mind of Earl Derr Biggers in 1923 after reading an article about two Honolulu detectives, Lee Fook and Chang Apana, and their exploits in squelching an opium deal and arresting a Chinese dealer in Hawaii. Biggers, who had visited Hawaii in 1919, had already developed the plot of his first Hawaii-based mystery, The House Without a Key, before he stumbled across the story about the opium bust.
In an April 10, 1931, interview with the Syracuse Herald, Biggers recalled, "I went to the New York Public Library and glanced through a huge bunch of Honolulu newspapers in order to refresh my memory about the islands .... I came across a small unimportant item to the effect that Chang Apana and Lee Fook, Chinese detectives on the Honolulu force, had arrested one of their countrymen for being too friendly with opium. ... I decided at once that ... a Chinese detective would be a good idea in The House Without a Key. Sinister and wicked Chinese were old stuff to mystery stories, but an amiable Chinese acting on the side of the law and order had never been used up to that time."
Biggers referred to the Orientals as "Japs" and "Chinamen" and described Chan as looking like a big ivory-skinned Buddha. He knew little of the more than 40,000 Chinese living in Hawaii at the time, immigrants who were contracted to work on plantations and roads and, after their contracts expired, opened businesses, fostered education for their children, and shared their culture and herbal medicine with Hawaiians and visitors.
Biggers admitted his lack of familiarity with the Chinese in the same Syracuse paper, in which he described an imagined discussion between Chan and himself. "Said Biggers in a mock dialogue with Charlie, 'but how can I write of the Chinese? I know nothing of same. I could not distinguish Chinese Man from Wall Street Broker. To which Charlie answered, 'Chinese would be the one who sold you the honest securities."
Earl Derr Biggers graduated Harvard in 1907 and worked for Bobbs-Merrill Publishers before ending up at the Boston Traveler Magazine in 1908 as a daily columnist, then a drama critic. There he met his future wife, Eleanor Ladd who, together with living in New England and learning more about journalism, influenced his writing. After he was fired, due to a change of ownership in 1912, he wrote his first novel, Seven Keys to Baldpate, one chapter a day. It was published in 1913 by Bobbs-Merrill Publishers. George M. Cohan secured the dramatic rights to Biggers' book and produced the play on Broadway. He finished a second novel, Love Insurance, which was turned into the play See Saw.
The Biggers lived in the cultured worlds of Boston and New York. Earl Derr loved food, travel, and golf. He and his wife vacationed in Waikiki in 1919. There, he imagined the perfect murder—as he sat on the beach watching the cruise ships come into port—and he immediately started The House Without a Key, based loosely on the Grey's Hotel cottages where he and Eleanor stayed and where the doors were never locked.
However, when he arrived home, he wrote ten short stories for the Saturday Evening Post and continued with his theater interests. He didn't return to his murder novel until four years later. Biggers recounted in the Honolulu Police Journal in 1931, "Charlie appeared in the Honolulu mystery, starting as a minor and unimportant character. As the story progressed, however, he modestly pushed his way forward, and toward the end he had the lion's share of the spotlight." Biggers saw most of his novels made into movies, starting with The House Without a Key.
Earl Derr Biggers did not want Charlie Chan to be his legacy. He'd planned to write other books until the stock market crashed in 1929. Needing money, he continued with the Chan mysteries. He finished six Chan mysteries before he passed away from a heart attack in August 1933 at age 48. Several obituaries praised Earl Derr Biggers for promoting an international understanding and paying tribute to the Chinese. Charlie Chan not only entertained readers, but also opened a door to people's curiosity about a culture half a world away.
The Charlie Chan books:
The House Without a Key - 1925
The Chinese Parrot - 1926
Behind That Curtain - 1928
The Black Camel- 1929
Charlie Carries On - 1930
The Keeper of the Keys - 1932