Events
Upcoming events/2018:
Past events/2017:
March 4-5
Flush Ink Productions' "She Speaks—Women's Works, Women's Words" Festival
Pat's short play, "And So ..." was part of the festival.
Waterloo, Ontario, Canada
July 30
Pat's play "Appearances" was part of the Playwrights' Center of San Francisco's 24-Hour Play Festival.
October 6
SF Olympians VIII: Mediterranean Cruise
Pat is commissioned to write her play "Jack" for the Egyptian god Wepwawet for the Olympian Festival.
Exit Theatre
San Francisco, CA
Past events/2016:
February 25-28
Left Coast Crime Conference
Hyatt Regency Phoenix
Phoenix, AZ
Panel: Saturday, Feb. 27, 3 PM: "The Psychology of Murder" with Steve Brewer (moderator), Cathy Ace, Ellen Kirschman and Dennis Palumbo
March 21, 22, 28, 29
ON THE SPOT!
SF Theatre Pub short play festival
@SFtheatrepub
San Francisco, CA

March 26
AAUW SF mystery group presentation for Deadly Illusions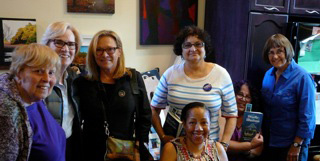 April 2
"The Gatekeeper," winner of "one of the best plays in Fringe of Marin's 25 year history," was part of the 25-year gala.
Dominican University
San Rafael, CA
2 PM
June 13
Folio Books
Noe Valley, CA
Reading with the Gerstle Park Literary Salon at "Odd Mondays"
7 PM
July 31
"Blanche and Benny"
PCSF Playoffs #3
Shelton Theatre
San Francisco, CA
3:30 PM & 7 PM
October 5
The National League of Pen Women Awards luncheon
1st place in Non-Fiction Category
The Pacific Club
Honolulu, HI
11:30 AM-1:30 PM
December 3-4
Playwrights Foundation 5th Annual Flash Play Festival - Fast and Furious
Pat's one-minute play titled "City Bench" was be included. Over 40 Bay Area playwrights participated.
Brava Theater Center
San Francisco, CA
December 11
SinC Sacramento Chapter: Capitol Crimes 2017 Anthology Release
Carmichael Library
5605 Marconi Ave.
Carmichael, CA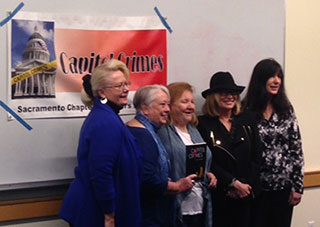 Past events/2015:
January 5
Tides Theatre
533 Sutter St., 2nd floor
San Francisco, CA
Reading of Pat's play, "Till The End"
7 PM
January 11
Assaggio (Kahala)
Honolulu, HI
Reading from Confetti with the Hawaii Sisters in Crime
5 PM
February 9
Reading of "Who is Humpty?" by the Marymount College, NYC, acting students.
Directed by Mary Fleisher, Department Head.
April 26
Awards Dinner: Northern California Publishers and Authors Association
Spaghetti Factory
Roseville, CA
August 30
American Association of University Women (AAUW)
Tech Trek Girls (mostly high school) talk about their experiences in STEM (Science, Technology, Engineering, and Math) camp in SF colleges and Stanford
Pier 17 Exploratorium
San Francisco, CA
September 5
39th Annual McGucken Playwright Workshop
Panel Discussion: "I Had a Vision, Man" with Caldwell-Smith, Bill Chessman, Susan Lorraine, and myself
Sonoma County, CA
December 3-5 and 10-12
Playwrights' Center of San Francisco Sheherezade 2015 Festival
Exit Stage Left Theatre
156 Eddy St.
San Francisco, CA
8 PM
Past events/2014:
February 13
Sunnyvale Presbyterian - Soule Hall
Reading
7 PM
March 20-23
Left Coast Crime Conference
Portola Hotel & Spa
Monterey, CA
November 4
NYC play reading of Pat's play "Humpty Dumpty"
Past events/2013:
March 22-23
Playwrights Center of San Francisco (PCSF)
24-Hour Play Festival
San Francisco, CA
April 30
California Writers Club Celebrates National Poetry Month
Belvedere-Tiburon Library
1501 Tiburon Blvd.
Tiburon, CA
June 15
Women's Power Strategy Conference
Wells Fargo Art & Cultural Center
Sonoma, CA
June 22-23
CCWC (California Crime Writers' Conference)
SinC/LA & SouthCal MWA
Hilton Pasadena
168 South Los Robles Ave.
Pasadena, CA
August 2-4
Deadly Ink Mystery Conference
Hyatt Regency
2 Albany St.
New Brunswick, NJ
September 22
CWC - Marin Writes - A Celebration of the Writing Life (Download a PDF flyer for this event)
Book Passage
51 Tamal Vista Blvd.
Corte Madera, CA
1-5 PM
November 16
Barnes and Noble
Roseville, CA
Release party for the Capitol Crime 2013 anthology
1-3 PM

Past events/2012:
Feb. 16
AAUW - Book Reading and Signing
Benicia Public Library
150 East L Street
Benicia, CA
March 26
Book Club Discussion of Marcia Muller's Vanishing Point
Led by Patricia L. Morin
Antioch Library
501 West 18th Street
Antioch, CA
March 29-April 1
2012 Left Coast Crime (LCC) Conference
Annual Mystery Convention
Sheraton Grand Sacramento Hotel
1230 J Street
Sacramento, CA
April 13-April 28
The Gatekeeper World Premiere - 2012 Fringe of Marin Winner (Best Play - Fringe of Marin 2012 Playwright Contest and Critics' Choice; Best Director, Best Actor, and Best Actress)
Dominican University Community Players
Dominican University
50 Acacia Ave (Meadowlands Hall at Grand Ave)
San Rafael, CA
July 26
CWC Marin Larkspur Library Member Reading Night
The Council Chamber
Larkspur Library
400 Magnolia Avenue
Larkspur, CA
Aug. 23
AAUW Book Club Reading - Crime Montage
(AAUW members only)
San Francisco, CA
Sept. 23
AAUW Mystery Book Club
San Francisco, CA
Oct. 6
Orinda Books
Orinda, CA
With Janet Dawson, Jonnie Jacobs, Simon Wood
Nov. 3
Sisters in Crime Fall Showcase
Books Inc. Opera Plaza
San Francisco, CA
Past events/2011:
Jan. 21
A Great Good Place for Books
6120 LaSalle Ave., Montclair Village
Oakland, CA

Jan. 23
Mission Coffee
151 Washington Blvd.
Fremont, CA

Feb. 17
Lutecium Psychoanalytic Group
870 Market St.
San Francisco, CA
Feb. 18
American Assoc. of University Women (AAUW)
780 Asbury Ave.
El Cerrito, CA

March 24-27
Left Coast Crime 2011
Santa Fe, NM
April 24-25
LA Times Festival of Books
UCLA Campus
Aug. 5-7
Deadly Ink
Sheraton Parsippany Hotel
Parsippany, NJ
Sept. 15-18
Bouchercon
Renaissance St. Louis Grand Hotel
St. Louis, MO
Past events/2010:
Oct. 31
San Francisco Mystery Bookstore
4175 24th St.
San Francisco, CA
Nov. 3
Book Passage
51 Tamal Vista Blvd.
Corte Madera, CA
Nov. 5
Dark Carnival Bookstore
3086 Claremont Ave.
Berkeley, CA
Nov. 10
Books Inc.
601 Van Ness Ave.
San Francisco, CA