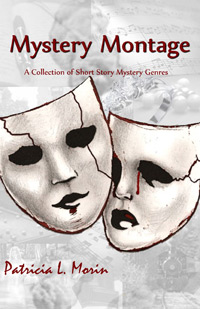 Mystery Montage ($12.95, Top Publications, Ltd., Dallas, TX) is a collection of short story mystery genres that include: cozy, cultural (Africa), suspense, noir, romance, psychological, experimental, paranormal, literary, humorous, a novella, a three page short.
The story "Homeless" was nominated for a Derringer and an Anthony Award, while "Pa and the Pigeon Man" was nominated for a Pushcart Award.
Mystery Montage is available from Amazon.com, Barnes & Noble and IndieBound.
The Short Mystery Fiction Society (SMFS) is a valuable resource for writers, editors, publishers, and readers of short mystery and crime fiction.
Reviews
"Every short story in Mystery Montage, the compilation book of Patricia L. Morin, a former Unionite, is a delight in every sense of the word. Her collection of short story mysteries tends to entertain and at the same time keep a reader on the edge of his or her seat—even if this reader is somewhat unfamiliar with the idea of short stories. Full length stories in fine books apparently are this reviewer's choice, but it seems that with this book, Morin has actually awakened the senses with its literary appeal. Morin's award-winning stories are unique due to the fact that her character's intrigue with their appealing quality, their mysterious lives, their fascinating personalities and their ability to reach out and lasso the readers into the revolving circle of their own personal and sometimes frightening realm. And what makes this book even more affective is how the author came about visualizing these stories. All Morin needed was to absorb a real life situation, such as 'an older couple sitting on a bench on the boardwalk in Atlantic City,' and she created a fabled tale that endeared itself to a book enthusiast. The story was called 'Under the Boardwalk.' Among her variety of short stories in Mystery Montage, many of which were published singly or in anthologies, are titled 'Maasai Mara Murder,' 'Funeral,' 'Rap Sheet,' 'Homeless,' and 'Pa and the Pigeon Man.' Each story is told with such perfection that it can stand alone among its pensive readers. Mystery Montage was published in 2010 by Top Publications Ltd. of Dallas, Texas. Mystery Montage has found a new home on the shelf of this reviewer's recently obtained bookcase—reserved only for the crème de la crème books containing fascinating short stories. These are the type of stories that never go stale."
—Bea Smith, Worrall Community Newspapers, New Jersey
Click here to read published book review and click here to read featured interview article (PDFs)
"Almost nothing is what it seems to be in these smart, entertaining mysteries by Patricia Morin. And when the revelations arrive, they are fresh and unexpected. Morin creates fascinating characters from all walks of life with unique voices and all too human motivations. And she nearly always finds a touch of humor in their predicaments. My personal favorite is the delightful 'Who Killed Horatio T. Adams?'"
—Terry Hunter, Film Critic, KGMB-TV, Honolulu, Hawaii
"Crafting a good short story is a challenge. The author has less time—and space—to build a plot and develop characters. When done poorly, you are left feeling like you've nibbled on a snack, hungry for something more substantial. Patricia Morin's collection of short-story mysteries, Mystery Montage, feels more like a full-course meal.
"Morin's stories are diverse and exotic, spanning the globe from Atlantic City and San Francisco to Honolulu and even a small village in Africa. It's these far-flung settings that keep things interesting and vibrant; each story immerses the reader in a new world. Morin's voice changes with each locale; she's got an uncanny knack for creating wildly differing characters and, yet, infusing them all with enough personality to bring them to life and make them believable. Whether she's writing about an elderly woman who discovers a ring in the sand beneath a boardwalk, a young rapper who will stop at nothing to win a recording contract, or a chocolate-loving Hawaiian widow saddled with her husband's secret gambling debts, her characters jump off the page. They feel real and are surprisingly fully-developed. If there's one criticism, it's that they occasionally shy away from common sense.
"One of the high points of Mystery Montage is the fact that each story feels completely unique; no two are alike, either structurally or in tone, giving the collection a fresh feel. It reads like an anthology filled with works from a variety of authors—a difficult feat for one person to pull off. Morin takes the basic mystery genre and hacks it up into various sub-genres, from the noirish feel of 'Rap Sheet' to the hilariously screwball 'Who Killed Horatio T. Adams?' Stories range in length from 51 pages to three (for 'Homeless,' an impressive exercise in brevity). Never too complex, but always entertaining, Mystery Montage delivers good storytelling in easily digestible chapters. Let's hope Morin is hard at work on MM2."
—Sacramento Book Review / San Francisco Book Review
Click here to read published book review (PDF)
"A 
 superb twelve short story crime anthology. The key to this twelve short story crime anthology is the diversity of entries that cross many sub-genres and locations. 'Under the Boardwalk' occurs in Atlantic City where septuagenarians find a key clue in a police procedural but do not solve the case. The 'Maasai Murder Mystery' is a terrific African tribal police procedural while the longest tale 'Who Killed Horatio T. Adams' takes place in Oahu. In 'The Pool Room' sting, a San Francisco writer's emails and journals, told in 'Rap Sheet.' In Los Angeles or on a train heading to Exeter, New Hampshire, these are fabulous stories with different twists. Finally, whether it is private investigator Green 'Landing in the Rough' on a New Jersey golf course or the 'Funeral' where a story is within a story, fans will appreciate this strong Mystery Montage."
—Harriet Klausner / Amazon.com Book Reviewer
---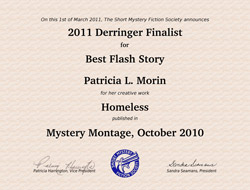 Here is a story from Mystery Montage:
Homeless
2011 Derringer Award Finalist for Best Flash Story
2011 Anthony Award Nominee for Best Short Story
At a traffic light on a windy San Francisco corner, through my half-open window, I watch a homeless man sitting on a worn wooden bench. He nods his black-gray matted shoulder-length hair, perhaps acknowledging a question that only he can hear. Torn army-green trousers end above his ankle, and a flip-flop has fallen off the foot that rests on his knee. A ripped canvas satchel hangs by his side with a rolled up sleeping bag stuffed underneath it. He nods his head again and again, lifts a hand, shirt-cuff wilting toward his elbow, and points toward the traffic light. We both watch red.
Where is he from?  Do his knees hurt from sitting so long in one position? Is he truly staring at the red light, or does he see some phantom of the past? Is he new to San Francisco, like me, and looking for a home?
People race past him and cross the street against the wind, passing in front of my box and suitcase-filled old station wagon. They, too, seem to stare blankly into space, harboring themselves in secret worlds. Are they happy in their worlds? Do they ever feel an imaginary pull toward that weather-beaten bench like I do? Are their families a plane ride away?
The homeless man stomps his foot to the ground, slaps his knee and laughs. His energy touches me, and his laugh infects me. I chuckle, too. I want to race into his world and embrace that laughter. I want to live there on that bench, make it my home, and watch red.
A moment passes and he leans his head to one side and catches me staring. I feel as though I should wave, but I don't. He smiles warmly. I return the gesture with a grin. His eyes return to the light, still red. He removes his ankle from his knee and, as his foot finds the fallen flip-flop, a hulk of a man in dress slacks and a windbreaker sits down next to him.
"Hello Bobby Bonito. I'm Det. Warren from the San Francisco police department."
Bobby glances at him and then points to the red traffic light.
"Yeah, I'm sure you like red. You're under arrest, Bobby, for starting the fire on Samson Street. A lady died in that fire. We have to take you in." The detective speaks to the back of Bobby's head.
As red turns to green, two police cruisers block the intersection.
Bobby laughs again and points to the light. Two policemen exit their cars and one stands next to Bobby opposite the detective, and the other policeman stands in front of Bobby blocking my view. People avoid the bench by J-walking behind my car. Some people stand on the opposite corner, watching and whispering.
"I'm going to place these handcuffs on your wrists in front of you. So don't fight me, Bobby." The detective's voice is soft.
Bobby stands after the cuffs have been placed on his wrist. He's taller than I would have imagined, and looks at me over the policeman's shoulder. He turns to the light and I follow his eyes. Red. Again.
As the detective holds his upper arm, Bobby pushes him away and rushes toward my car.
I freeze as our eyes connect.
He grabs my door handle. I gasp as he looks into the passenger window.
Go away, I yell in my mind.
The two policemen grab him and pull him toward the cruisers.
"No Bobby, you can't go with her." The detective says looking at me, "She's not taking you home. You're under arrest and you have to come with me. You probably don't understand a word I'm saying, but we gotta take you in."
I exhale.
The detective places Bobby in the back seat of the police car and joins him. As he is read his rights, Bobby lowers his head down and looks up at the light. The cruisers move away as the light turns green.
I stare at the worn wooden bench. Empty.
An anxious horn honks behind me.