Whoever you are, no matter how lonely,
the world offer itself to your imagination,
calls to you like wild geese, harsh and exciting-
over and over announcing your place
in the family of things." Mary Oliver
I've been wondering about my creative life lately.
I feel that my imagination is still very rich with inventive ideas. But I am no longer certain how to express those images, schemes, and blips of stories that fill my often crowded memory. I believe in a universal energy that sometimes guides you in a certain direction, and reunites you with earlier events and memories. Maybe it's just a facet of my unconscious' accumulation of life's experiences that is touched by an event, and brought to the forefront of my mind through my imagination.
I wrote a short story about golfing, "In the Rough," years ago for a Deadly Ink contest. Whipped it off and sent it in, with only one weak edit added. I said to my dad (probably starting his next life as a golfer), "This is for you."
The story won an award.
Years later, I converted a novella, "Who Killed Horatio T. Adams," to a play. It was read in Chicago. The next play, "The Gate Keeper,"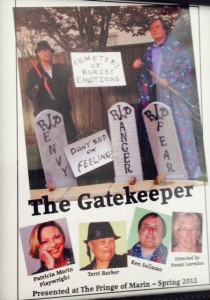 I offered to my mom. She dragged my father and I to every New York play, at least once a month. I still have the playbills! The play won critic and audience awards. It turns out I had a knack for playwriting, and loved it. So I wrote more plays, read more books about plays, and even attended workshops to enhance my skills. Recently, I just completed a commissioned work, "Who is Humpty?" It's a children's play to be produced this year, according to the producer. Working with a collaborator is an interesting experience, and a lesson in understanding the differences in perception.
Then I wrote a novel, a psychological thriller. It feels right. I'm combining my knowledge of psychology with my love of writing, and involving myself for a long period of time with several characters that I truly like, even the devil—or the psychic sociopath that thinks he's the reincarnation of the devil. The working title is "Moloch and the Angel."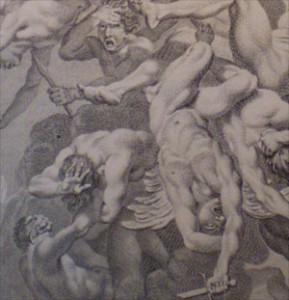 I have a few agents interested, and am on my second overhaul. However, I started writing novels so that I could get my short stories published. But now, well, I just don't know.
There are not enough hours in a day, or a week to put my time and energy into all three. Yet, I still can't let go of any one of them. It's like, in some inconceivable way, I've been guided to all three forms, and now feel the anguish of making a choice. I am inevitably alone in this decision, geese screaming in my ear, yet lost as to what place in the family I belong.