May the New Year bring to you-Warmth of love, and a light to guide your path toward a positive direction.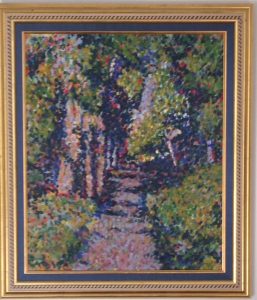 Painting by Nancy Vilhauer- Honolulu, Hawaii
It's hard writing at the year's end-especially when one is expected to look backward and forward at the same time. It's like being on the fence. Is forward looking going to help me feel more hopeful, more positive, more fulfilled or fruitful? Will I place myself on a path where I can feel more accomplished, at ease with myself, at peace? For me the answer is no. The light, for me, is staying on the path I chose many years ago, noticing more and more of the world around me as I travel the color-filled road.
Imagine every year starting on a new path–dizzy making if you ask me. No wonder people get so confused–every year they pick resolutions for change and improvement–sometimes the same one. They wonder what it is they really want and how they really feel about themselves.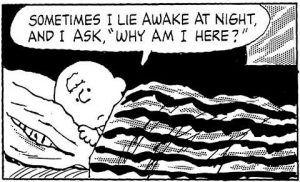 Maybe just sticking on the same path, following the same bright light, not getting lost,  is the answer.
As for looking back on 2016? I did well! Loved my work, had a few mishaps, and a made a few switcheroonies, plays took over short stories for a large percentage of the writing–wrote a few articles, met a few playwrights and actors that showed me some people are their work. Kept in contact with those I love, sent out gobs of queries … writing another novel.  Hmm … I was so conflicted this year about whether to write short stories, plays, or novels, and get my novel out, yet, I did all four. A decision was made. So this year I will continue to follow the light of my own creativity and my creative projects–and that includes myself. I will slow down the pace this year, I'm happy to say, but the path will remain the same, and the light will come from me.
Hope you have a wonderful new year's time, and don't pressure yourself with future resolutions or dwell on any disappointments.