Do Publishers Dream of Robo-writers?
report by Patricia Morin
The pressure is on for authors to sell books. With book stores closing because of Amazon and other internet outlets, publishers demanding authors to do their own marketing, publishers delivering contracts with less incentive, and selling books cheaper, it's a wonder authors don't just pack up their pens, and close down their imaginations.
But now, we may be replaced by robots!
Robo-journalism was used to report an earthquake in Los Angeles, CA, in March, 2015. The article, however, was based mainly on data from the US Geological survey. Here's the article: "A shallow magnitude 4.7 earthquake was reported Monday morning five miles from Westwood, California, according to the U.S. Geological Survey. The temblor occurred at 6:25 a.m. Pacific time at a depth of 5.0 miles. According to the USGS, the epicenter was six miles from Beverly Hills, California, seven miles from Universal City, California, seven miles from Santa Monica, California and 348 miles from Sacramento, California. In the past ten days, there have been no earthquakes magnitude 3.0 and greater centered nearby. This information comes from the USGS Earthquake Notification Service and this post was created by an algorithm written by the author."
Sounds like it was written by a real journalist.
"However, As well as the earthquake report, it also uses another algorithm to generate stories about crime in the city – with human editors deciding which ones need greater attention", the article continues (LATimes March 17th, 2015).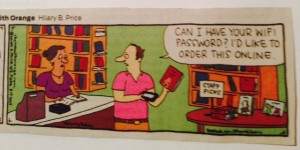 Shelley Podolny  "If an Algorithm Wrote This, How Would You Ever Know?" (NYTimes 3.7.15)
"These robo-writers don't just regurgitate data, either; they create human-sounding stories in whatever voice — from staid to sassy — befits the intended audience. Or different audiences. They're that smart. And when you read the output, you'd never guess the writer doesn't have a heartbeat.
Consider the opening sentences of these two sports pieces:
"Things looked bleak for the Angels when they trailed by two runs in the ninth inning, but Los Angeles recovered thanks to a key single from Vladimir Guerrero to pull out a 7-6 victory over the Boston Red Sox at Fenway Park on Sunday."
"The University of Michigan baseball team used a four-run fifth inning to salvage the final game in its three-game weekend series with Iowa, winning 7-5 on Saturday afternoon (April 24) at the Wilpon Baseball Complex, home of historic Ray Fisher Stadium."
First one by a machine, second by a human.
Next, we'll be reading novels written by computers, a conglomerate of the best-selling authors with a simple plot, realistic (ha) characters, and a creative twist at the end that you would have never imagined.
And the "The End" on the last page will mean exactly that.
Patricia Morin is author of Deadly Illusions, Confetti: A Collection of Cozy Crime, Crime Montage, and Mystery Montage.
Don't know why they stuck in the comic about bookstore and their lowly customers, but thrilled an article of mine made a lit magazine.