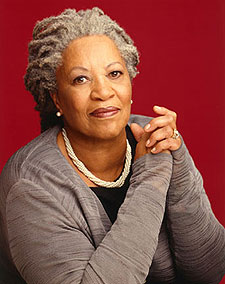 Reading the Ladykiller's Blog coincided this week with my entering the 365 Day Playwright endeavor where 365 playwrights, all women, have picked famous women through history to write a play about–comedy, drama, musical, monologues accepted. When skimming the African American list, I noticed that Toni Morrison, first African American woman to be honored with a Nobel Prize for Literature in 1993 was not on the list. I wrote the list, picked her as my special lady, and my play will be out as part of this group next year.
Her first novel, "The Bluest Eye", 1970 is still a target for censorship. It ranked number 2 on the banned book list according to the American Library Association for Intellectual Freedom. The novel comes in behind the graphic novel, according to the Internet, "Captain Underpants"! Domestic abuse and negative self-image is to blame for "The Bluest Eyes"–go figure.
Morrison spoke out about censorship in October 2009 after one of her books was banned at a Michigan high school. She served as editor for Burn This Book, a collection of essays on censorship and the power of the written word. She told a crowd gathered for the launch of the Free Speech Leadership Council about the importance of fighting censorship. "The thought that leads me to contemplate with dread the erasure of other voices, of unwritten novels, poems whispered or swallowed for fear of being overheard by the wrong people, outlawed languages flourishing underground, essayists' questions challenging authority never being posed, unstaged plays, canceled films—that thought is a nightmare. As though a whole universe is being described in invisible ink."
I believe that Mysti Berry of the Lady Killer's group, spoken from her heart, says it all:
I love every banned book, from Charlotte's Web to Lady Chatterly's Lover. Why? Because every time a group of frightened people gets together and decides to control how someone else thinks, they are admitting that ideas are where the real power is. It's the most democratic truth I know, and I cherish it.
Yes, even if there are breasts or drugs or violence (and by the way, how did breasts get on the list of things-that-are-bad-for-children?), every book challenge or ban is an acknowledgement that ideas can change the world. Ideas wake us up to the way the world should be, or the consequences of not changing. They keep us from careening off the edge of fascism. They give a little girl the vision and strength to brave a bullet in the head for her right to learn.
When people get together to ban books, it's like they're painting their own hands in fluorescence, so we can see them coming, and hopefully do something about it before it's too late.
So thank you, school district that misspelled the title of one of the books you were trying to ban. Thank you, large online merchant for trying to make romance books unavailable because you can't tell a harmless cover shot of a man's torso from child pornography. Thank you, Kansas, for trying to ban my very favorite children's book, Charlotte's Web, because talking animals are heresy (except, I'm guessing, that book where the snake tells the lady to eat an apple.)
Charlotte's Web was such a revelation to me in fifth grade that I dragged my mom's old manual typewriter into the closet and plunked away for a whole summer, Trying To Become A Writer. I'm still trying to perfect my craft, these many decades later, and I'll never stop trying, especially when those who really should know better try to stifle the free exchange of ideas. No sir, I'll never stop trying.
I believe that Mysti's words are an inspiration for every man and woman to continue to write despite what others will think or believe, and that includes all creators of comic characters!