Fake news, the outgrowth of propaganda, continued:
 A few examples of Fake News from the late 1700's– the time of the American revolution. I was amazed how much propaganda, as Fake news was once called, was spread during those times, and the damage it caused. However, why was I so surprised? Could it have been my belief in truth, justice, and the American Way? Maybe we should just leave it at: The American Way.
TAKEN FROM: Fake News Presidency- Dana Milbank- Washington Post, Nov. 18, 2016
In 1769, John Adams gleefully wrote in his diary about spending the evening occupied with "a curious employment. Cooking up Paragraphs, Articles, Occurrences etc. — working the political Engine!" Adams, along with his cousin Sam and a handful of other Boston patriots, were planting false and exaggerated stories meant to undermine royal authority in Massachusetts.
Several other leaders of the American Revolution likewise attempted to manage public opinion by fabricating stories that looked like the real thing. William Livingston, then governor of New Jersey, secretly crafted lengthy pieces that newspaper publishers featured. One, titled "The Impartial Chronicle," was anything but, claiming that the king was sending tens of thousands of foreign soldiers to kill Americans.
                                                      Benjamin Franklin's printing press
But the most important was crafted in 1782 at a makeshift printing press in a Paris suburb. Benjamin Franklin, taking time out from his duties as American ambassador to France, concocted an entirely fake issue of a real Boston newspaper, the Independent Chronicle. In it, Franklin fabricated a story allegedly from the New York frontier .
The story was gruesome: American forces had discovered bags containing more than 700 "SCALPS from our unhappy Country-folks." There were bags of boys', girls', soldiers and even infants' scalps, all allegedly taken by Indians in league with King George. There was also a note written to the tyrant king hoping he would receive these presents and "be refreshed."
To drive the point home, Franklin composed a fake letter from a real person, naval hero John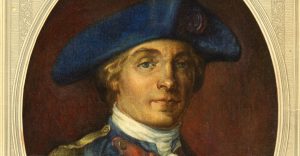 Paul Jones, that ventriloquized almost verbatim the Declaration of Independence, including the accusation toward the end of that document suggesting the colonies must declare independence because the king has "engage[d] savages to murder . . . defenseless farmers, women, and children."
Turn the clocks forward two hundred and some years and bring in mass media, social media, and the ability to lie easily, a physiological human capability … the more you lie, the easier it is.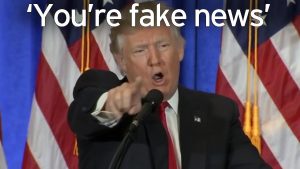 It was at Donald Trump's first press conference as President-elect when the term "fake news" broke out of media discussions and into the mainstream. ( James Carson, The Telegraph, 3.16.17) "You are fake news!" he pointed at CNN's Jim Acosta while refusing to listen to his question. Since then, the now President of the USA has been calling out major media outlets several times a week for being 'FAKE NEWS' via his Twitter feed – particularly CNN and the New York Times.
Back to Dana Milbank:
For 17 months, Donald Trump treated the nation to a series of outlandish promises. He'll eliminate the $19 trillion federal debt in eight years. He'll balance the budget without cutting Social Security, Medicare and other entitlements. He'll bring back lost coal jobs. He'll make Mexico pay for a border wall. He'll deport 12 million illegal immigrants while growing the economy by at least 6 percent.
Now Trump is the president-elect, and it's time to deliver on the impossible. No wonder his transition is racked with chaos and infighting.  Early indications are that Trump plans to continue to fake it … He tweeted that as a result of his work with Ford, the automaker would keep a plant that makes Lincoln SUVs "in Kentucky — no [sic] Mexico."
But Ford had never planned to close the Kentucky plant. It was merely planning to make more Ford Escapes instead of Lincolns there — a change that would have resulted in no job losses. Ford is proceeding with its previously announced plan to build a new factory in Mexico.

How's that for fake news?