Every month I read my Horoscope. So many people do. I, like many others, schedule events, doctor's appointment, dates, travels and even when to send out queries for agents and publishers based on the lineup of the planets, stars, and how angry the Sun is at Mars.
This month was the month of the strawberry moon. An old name for the month of June,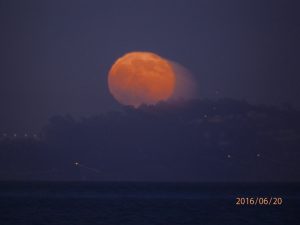 it really did signal the harvest of strawberries. Last time the strawberry moon landed with the Solstice was June, 1967.
Back to the horoscope. I give you that it wasn't supposed to start off too well with harsh news on the 2nd–give or take three days (or ten in my case) when the news was supposed to be good.  June 13 was to be the stellar day bringing surprise cash out of the blue–like flowing manna from the skies. Naa, that didn't happen. I got a rejection letter, along with the news my plans may be blown away by another person's breakup. It is true that Mars is the planet that teaches patience–I sure as hell needed it. But it was a supreme month to enlist the help of a doctor, or a therapist. Hmm … with all those conclusions and changes, and none of them to the positive, a therapist might not be a bad idea, I thought. But the money didn't come to me that after closing the non-existent deals earlier in the month. But whatever, after the full moon on the 20th, a chapter was to close on some part of my life. Could that have been when a successful business deal would have lead to the money I would have used for my shrink?
But good news! Mars is going direct on the 29th–today. Bye-Bye Mars– Tomorrow is a good day to sign for loans–for the business that didn't work out, for the money that didn't come, for the ripe strawberries I can't afford to buy. The month was to start with thick dark clouds that were to clear up toward the middle and be all sunshine by the end of the month, with beautiful horizons.
Good, no rain while I go to the bank to sign my loan for all those luscious strawberries.